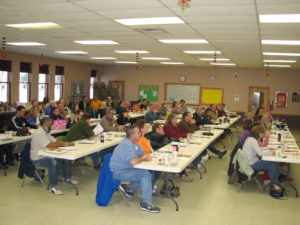 So you want to be a beekeeper? Well, we have you covered.
The Frederick County Beekeeping Association provides a three-day short course for beginning beekeepers on three consecutive Saturdays in January and/or February from 9AM-3PM daily. There is also an additional Field Day day in April (weather permitting). During the Field Day, new beekeepers get hands-on experience in opening and inspecting beehives.
Cost for the class is $75 (less for additional adults and for those between 12 and 17) which includes three full days of instruction, a copy of the "Beekeeper's Handbook," lots of snacks, and raffle prizes.
Several instructors will cover all aspects of beekeeping. This course will teach you everything you need to know to safely start and maintain a beehive. You won't be a seasoned expert, but you will know enough to get started. See below for a typical course outline.
SOLD OUT. We are sorry, but the Jan-Feb 2018 Beekeeping Class for Beginners is sold out. You are welcome to use our Contact page to request to be added to our mailing list regarding future Beekeeping Class for Beginners courses.
Regardless of whether or not you attend the class, please consider joining our club and attending monthly club meetings!